Nepal Tibet Bhutan Tour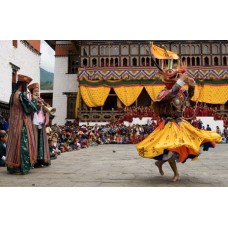 Package Code:
Npt Tbt Bht Tour
Availability:
In Stock
Price: Rs.0.00
Ex Tax: Rs.0.00
Nepal, Tibet and Bhutan are three gems of the Himalayas. All of these countries survived historic mighty enemies until very recently keeping its culture untouched. Nepal is diverse geographically, culturally and biologically. It's southern plane is as high as 70 m which vertically rises to the top of the world, Mt. Everest within the distance of 180 km only. This variation in landscape creates biodiversity. Nepal's tropical forests shelters many endangered species of flora such as the tree fern, screw pine and several rare orchids and endangered mammals such as tiger, rhino, wild elephant, gaur (Bos gaurus), striped hyena, sloth bear and Gangetic dolphin. The foothills of the Himalays are famous for trekking. This provides ground for adventure lovers of all grade and age. Trekking is the best way of experiencing Himalayan scenery and culture. There are many hidden Sangri Las like Mustang, Tsum Valley and Dolpo, which were restricted until very recently and are travelled by very few.
Bhutan is another Himalayan Kingdom reflecting incredible geographical and ecological diversity. The Thunder Dragon kingdom of Bhutan is true mystical bliss enveloped in its natural splendor. This Himalayan paradise is still wrapped in a time, recollected by many as "those good old days".
Tibet on the other hand is considered as roof of the world. It's altitude and remoteness isolated it from rest of the world, which has contributed to the creation of its unique culture. It's lofty perch high above the hurly-burly of the lowlands has shaped Tibet's other-worldly attitudes and discouraged even hardy colonists from establishing a foothold.
iTourNepal.com (P) Ltd offers best of Nepal, Tibet & Bhutan with smooth trasnition, visa processing and booking decent accommodation and transportation.
Tour Itinerary:
Day 01 : Kathmandu, Nepal arrival | Transfer to Hotel
Day 02 : Drive to Chitwan National park | Check in Safari Lodge | lunch | sunset view, Tharu village excursion, cultural show and dinner
Day 03 : Jungle safari on elephant back, Elephant breading center, canoe ride to observe crocodile, bird watching
Day 04 : Breakfast | Drive to Pokhara (4 hrs) | Visit International Mountain Museum | Walk along the Phewa Lake
Day 05 : Drive to Sarangkot for sunrise view over Annapurna Himalayas | Breakfast | take a boat across the Phewa lake and hike to World Peace Stupa | Climb down to Devi's Fall | Visit Tibetan Refugee camp and Devi's fall | Lunch | Visit Matepani Monastery
Day 06 : Fly back to Kathmandu | visit Kathmandu Durbar Square and Shyambhunath in the evening | Pack to depart for Tibet
Day 07 : Drive to Kodari (5 hrs / 105 km, Nepal / Tibet border) | Our represent will help you go through the immigration formalities. Tibetan Guide and Land Cruiser will be waiting on the other side. Drive to Nyalam (58 km)
Day 08 : Drive from Nyalam - Tingri (210 km | 6 hrs) over scenic Lalung La pass (5.050m)
Day 09 : Drive from Tingri – Rongbok monastery (190 km / 5 hrs) with the magnificent view of Mt. Everest
Day 10 : Explore Everest north Base Camp and spend one more night at the Base Camp
Day 11 : Drive from Rongbok to Xigatse (244 km | 7 hrs) | Hotel
Day 12 : Visit Tashi Lumpo Monastery in the morning and drive to Gyantse for overnight stay | Visit Kumbum stupa in the evening
Day 13 : Drive to Lhasa (261 km / 8 hrs) over two beautiful passes of Karo La (5,010m) and Kamba La (4,794m) . We will also pass by the scorpion lake (Yamdrok Tsho)
Day 14 - 15 : Lhasa Tour (Visit Potala palace, Jhokang temple, Sera monastery, Drepuk monastery)
Day 16 : Fly back to Kathmandu | Visit Boudhanath and Pashupatinath in the evening
Day 17 : Fly to Paro in the morning | Paro Tour and drive to Thimpu
Day 18 : A scenic drive to Punakha | Visti punakha dzong, also known as Pungtang Dechen. Photrang Dzong (meaning "the palace of great happiness or bliss") | Overnight in Punakha
Day 19 : Drive back Paro via Thimpu | visit the Memorial Chorten, built in honor of the third King Jigme Dorji Wangchuck, visit the Folk Heritage Museum
Day 20 : Hike To Taktsang Monastery (3 -4 hrs / 900m) in the morning and visit farm house in the afternoon | Overnight in Paro
Day 21 : Drive to the airport and fly back to Kathmandu
Day 22 : Final Departure
Write a review
Your Name:
Your Review:
Note: HTML is not translated!
Rating:
Bad
Good
Enter the code in the box below: